I've got a hand full of sliders icons mixed into a post.
and you can find more in my tags.
And I will be making more in the future.
What can I say it's pretty much my favorite show.
( This Way! )
Current Music:

OK Go - The Fix Is In | Scrobbled by Last.fm
Rebecca Romijn and Jerry O'Connell will soon be on double diaper duty.
Us Weekly has learned that Romijn, 35, and O'Connell, 34, are expecting twins this winter.
A spokesman for the couple confirmed the news Monday morning.
The babies will be the first children for the pair.
A source close to the actor tells Us, "Jerry couldn't be happier about becoming a dad."
Earlier this month, O'Connell told Us that they had been trying to have kids.
"It would be amazing if it happened," he said at the Much Love Animal Rescue's "Bow Wow WOW!" event in L.A. July 19. "I hope it does happen."
He joked that the conception process had been "a lot fun for me," adding that they go at it "at least a few days a month!"
Asked about the secret to a happy marriage, O'Connell told Us, "We have a lot of fun together. I really enjoy being with her. I think Rebecca really enjoys being with me."
Next up: O'Connell will star in the new Fox sitcom Do Not Disturb (premiering this fall). Romijn will star in the drama Lake City (due in November) and will return for a handful of episodes of ABC's Ugly Betty in the fall.
Do they ever want to work together?
"Yeah, but we are so afraid of that Gigli effect!" O'Connell joked. "You can't really go there anymore. It's over. It's done."

Source- US Weekly

Hollywood has got to start bottling and selling Fertility Water, y/y?
1x07 Eggheads
1x08 The Weaker Sex
1x09 The King Is Back
1x10 Luck Of The Draw
(Rules)
Comments are lovely.
Please, credit
some_cramping
or
heliotitans
if taking, this way more people can find all these graphics :)
Be kind and don't modify these graphics, don't hotlink them and don't claim them as yours. Thanks.
(Teasers)



cut/icons
Sliders: Episodes from 1x07 to 1x10 (27)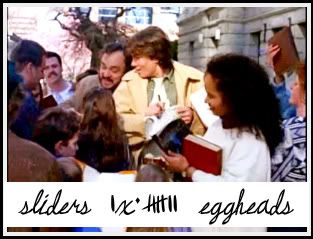 Eggheads
Previous picspams:
1x06 Summer of Love
1x05 Prince of Wails
1x04 Last Days
1x03 Fever
And a little talk about:
1x01 - 1x02 Pilot